Listen to the voices of the (un)heard
10 December 2009
Valerie Kwan
6 Comments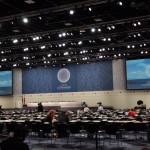 When you enter the Bella Centre, go straight ahead until the heart of the building – the Tycho Brahe Plenary, where the key delegates and parties conduct their COP. The meeting structure is designed for the large delegation size in the attempt to have all voices heard, yet the meeting somehow resembles a monologue: The president brings up an issue in the agenda, and countries take turns to speak while the timer ticks on the screen as the seconds go by. The talk goes on and on – this discussion happening for the past three hours on procedural matters – and still yet to be resolved – what is this all about?
Tuvalu says, "This is about survival, we need the formation of contact groups to carry out discussions." China says, "Let's skip the discussion on procedural matters and get down to business!" Venezuela says fervently (winning a round of applause) from the plenary, "documents will not save us without political will!" Then countries take turns for clarification. The president makes a decision. Then more clarification from the countries comes. The show goes on even after they break for lunch, but what exactly was the point?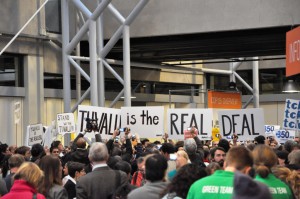 On the other side of the Centre, you will find the official side events. One of which was the voices of the indigenous people. Indigenous people, meaning: those who originally belong to a place. They struggle for human rights, and voice out their sufferings from the effects of climate change. The crisis we are now facing is actually one simple idea: we are all at risk and will need to act now in order to save ourselves. One simple and common idea, but when all 192 nations interpret 'ourselves' in an exclusive sense, the issue becomes incomprehensibly complex and often conflicting.
And so, that leaves a frustrated, confused soul loitering between plenaries. It is now quite a trendy thing to say that hope is in the younger generation – to me, that is a sugar-coated way of passing the burden to the next generation. (This was also the theme of the first prize in the REClimate film festival – please see Evdokia's article for more details) Hope alone is not enough for us. Continuously unfulfilled hopes lead to desperation, and writing blank cheques of hope is a delay and accumulation of the problem.
There is, however, a place where young voices are heard more than anywhere else, and that is where we create real solutions. Our agendas for change, our ideas, our action steps will be shared and exchanged, in the industry where you find all the young entrepreneurs – welcome to the world of Information and Communication Technologies (ICT). You are reading from us this very second!