Please don't flock to your own feather!
14 December 2009
Valerie Kwan
6 Comments
This will be my last day at the Bella Centre, since the latter part of the negotiations is getting intense with the involvement of high-level politicians. Even today, I was mildly disappointed to realise that I would not be able to access any key negotiation events given the limited entry only to parties and observers. Sitting right here in confusion, attempting to recollect the overall very overwhelming experience so far and thinking about how to deliver a certain message through this post, a frustrated but strong message started ringing in my head repeatedly: "This is not enough!"
This is not just a loud cry from a disgruntled heart urging for action. So far I have been making every effort to be objective, understanding, realistic and practical – there was even a hint of sympathy for politicians while a million thoughts run through my head. Dr. Rajendra Pachauri, Chairman of the Intergovernmental Panel on Climate Change (IPCC), made a statement during the High-Level Youth Briefing today that nation states have found themselves incapable of finding solutions for global problems such as climate change and he is calling for more grassroot activities to influence political decisions. That small hint of sympathy for politicians arose when I closed my eyes in the attempt to further visualise the complexity of this wicked problem. Politicians are incapable of finding a global solution, they do not have the bright minds of the scientists; they probably could not tell what the business sector critically need, but rather, they hear what the business sector desires. Politicians are so engaged in lobbying, they probably do not have the ability to realise what is really happening in areas where climate change has become a life and death matter this very second. They are probably in their own world where skilful conversations among countries go back and forth. I suppose every meeting is timed and there are so many of them, each meeting advised by their personal assistant, and in the midst of all the lobbying, they have lost sense of the actual time that is ticking away every second…
Before furthering into the question of what we can do to create this change, there is an observation I find impossible to miss in my short but remarkable experience at the Bella Centre: despite being the largest conference in history to bring people together to discuss and bring about solutions, many people are still trapped in a silo-mentality (even when they're here!) – this happens at all levels of the conference. There are the monologues in the key plenaries that was mentioned in one of my earlier posts, the fact that there are only young people in the side event on Intergeneration Equity, and the fact that there are only business people in suits in the panel discussion for Information and Communication Technology (ICT) and Intellectual Property Rights (IPR). The best example of diversity in the Bella Centre is sadly not in the plenaries, it is in the computer centre! The problem is, that's not where the communication takes place! Please, don't just flock to your own feather!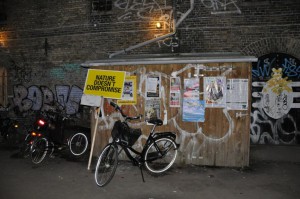 Allow me to briefly put aside the topic of what needs to be done in this post and end with a picture that tells of a little adventure I've been in on Sunday. This photo shows a demonstrator's board standing outside one of the stalls in Christianshavn – Nature doesn't compromise. The message that action is needed is literally penetrating into every possible corner of the world.