Independence of Style: Our exclusive interview with Dame Vivienne Westwood
22 December 2009
Harriet Riley
No Comment
You know that something's going on in the world when the Old Dame of fashion herself tells you to stop buying cloths. But that was Vivienne Westwood's heartfelt advice to a room full of diplomats, scientists and celebrities –including Bianca Jagger and Jane Goodall–at a climate change gala in Copenh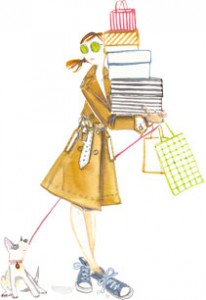 agen last Wednesday night.
The celebration was to honour the supporters of REDD+, an element of the UN treaty on climate change set up to save carbon by slowing deforestation. Dame Vivienne gave her speech wearing an organic cotton t-shirt she had designed specifically for the 100 attendees and knee-high black leather boots, explaining that the suitcase containing her ball gown had vanished at Heathrow Airport. This provided the ideal opportunity for her to model her own philosophy; that from the COP15 onwards, all wardrobes should be smaller, simpler and more versatile.
Dame Vivienne has been on the green bandwagon for years. Far from being a fad supporter, she takes the issue seriously; 'we know that the over-consumption encouraged by the fashion industry is unsustainable. The only solution is to get drastically creative, and reform the way we dress.'
After a bit of wrangling with her minder, G-1 Billion nabbed an inconceivable fifteen-minute one-on-one interview with the Dame after her speech. We asked her why someone from an opulent luxury industry should be supporting an anti-climate campaign, when they knew the culture behind their business was a big part of the problem.
The answer was surprising; Dame Vivienne proposed no half-measures, she was prepared to change unequivocally. 'There's no escaping the facts,' she pronounced, 'the time has come to wear less, and stop mindlessly consuming whatever is handed to us'.
But the new-season, new outfit mentality has been ingrained into our generation from birth. How do we free ourselves from that kind of a mindset? 'Make your own cloths, wear your husbands shirt backwards. I once wore a towel from my hotel room down to a night club because I though that was much more chic than some fancy shawl.' But braking the mold and refusing to follow convention takes courage. To do brave things like that that, it would seem that we have to change the entire way we think; 'Use your mind, for goodness sake," says Vivienne, because just exercising you native wit 'makes you into a freedom fighter in today's world. Stop being told what to do by advertising and magazines.'
Dame Vivienne had designed a t-shirt for the event baring the slogan 'act fast, slow down'. A powerful message for modern life, certainly, but even more powerful was the practical demonstration contained in the fact that the shirts were made from recycled PET bottles. It takes a leap of imagination to turn drinking bottles into clothing, and that's the kind of innovation Dame Vivienne knows we need, but on a much larger scale.
All the time the Dame was talking, I was thinking about my earlier interview with Christian Kemp-Griffin of EDUN, and how the brand used consumerism against itself, to reinvest in small African states damaged by over-exploitation. It would seem that, whether we are buying or making it, we have to take charge of what we wear at an individual and business level, in order to become a force for good. The true fight against climate change begins on our own bodies, cultivating an 'independence of style'.
In other words, do what you do not because it looks good, but because it's necessary; that sounds like something politicians could learn from. And the sooner we start practicing 'fashion freedom', the faster we'll learn how to make bath towels and old shirts chic. It's the kind of psychological leap, away from worrying what others think of use, to what we think and do for others, that could bring about a climate revolution.
Independence of style  –a creative and emotional lack of dependency, as well as literal self-sufficiency through producing what we wear– it could be the motto of tomorrow's fashion industry.
That's timeless style, and I can't think of a greater source of self-respect.