What about a small trip back to COP?
24 December 2009
Evdokia Bakalou
No Comment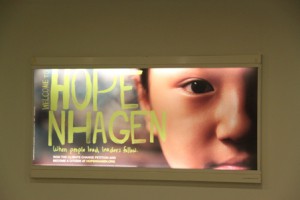 I would like to give the chance to each one of you that had not the opportunity to be part of the COP15 to see how it was our daily program and the Conference Venue where the negotiations took place! When you arrive in Copenhagen what you really notice is that all the country is dressed in GREEN… Everywhere you see posters, they give you brochures and in each corner there are  COP's people welcoming you. Everything refers to COP15…from the plane.. to posters on the stairs and the walls..You cannot say it is too much because you just enjoy all this 'clear' air of the airport. Every wall has an advertisement of Hopenhagen or DGI Byen's events or also messages from the Ministers of Foreign Affairs – the Presidents and the Danish people. They welcome you in the best way!! From the plane, the crew offer you the official newspaper of the COP15 that lets you know the latest news…and what is gonna take place the next days, the official side events of the city in the City Hall or the Nytorv Square but also whatever occurs in the Conference Venue!
From the moment you get off the plane you see everywhere photos and posters on the walls. Mostly of all I really liked the declarations of Angela Merkel and Jose Luis Rodriguez Zapatero and  Barack Obama in 2020 who declare: "I'm sorry. We could have stopped catastrophic climate change…We didn't!" It is never too late to fix your mistakes especially when you understand and have the will to ameliorate the situation and be loyal to your commitments. Let's hope for a legal binding agreement next November in Mexico.
Apart from my arrival, I would like to share with you more pictures of our staying in the City. Every morning the orange COP shuttle bus that you could  take from the Central Station  or also in the other stations it took you only 20 minutes to get in the Bella Center. There, you had to wait at least 15 minutes the first days, because the last ones there was a waiting list of 4-6 hours…some didn't get in at all on 17th…anyway, after the security control you leave whatever bothers you  in the cloakroom and you entered into COP's Venue where you could take part in the amazing Conference and be observer of the attempt to recover from the past's mistakes and look into the future!