Dance with me…in the world of Klimaforum..
24 December 2009
Evdokia Bakalou
No Comment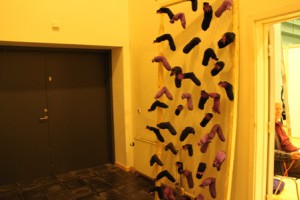 Apart from the Bella Center, near the city centre there was the People's Climate Summit that took place in the DGI Byen, the Klimaforum from 7th -18th December. In Klimaforum, represented a diversity of climate related activities with 190 inspiring talks and 50 exhibitions-along with different performances-music, theatre- and film representing the whole world. In Klimaforum, there was a possibility for all!! A possibility to let their voices be heard, ask questions and find common-ground. Indigenous people,grass-roots activists, farmers, fisherfolks, workers, affected people, artists and scientists educated, ispired and gave their perspective on the climate crises, its consequences and solutions. One of the biggest exhibitions was the following one at the purple hall, where you could observe many innovative projects from different NGOs but also individuals that provide their own ideas about saving our planet!! Just enjoy their exhibition…
That's the entrance to the Purple HALL!! What I've noticed… is that now many people invest more in biogas and permaculture projects...So, let's dance with me as Nouvelle Vague sings in this awesome world of green projects and just dream of whatever you really wish for our planet!!!